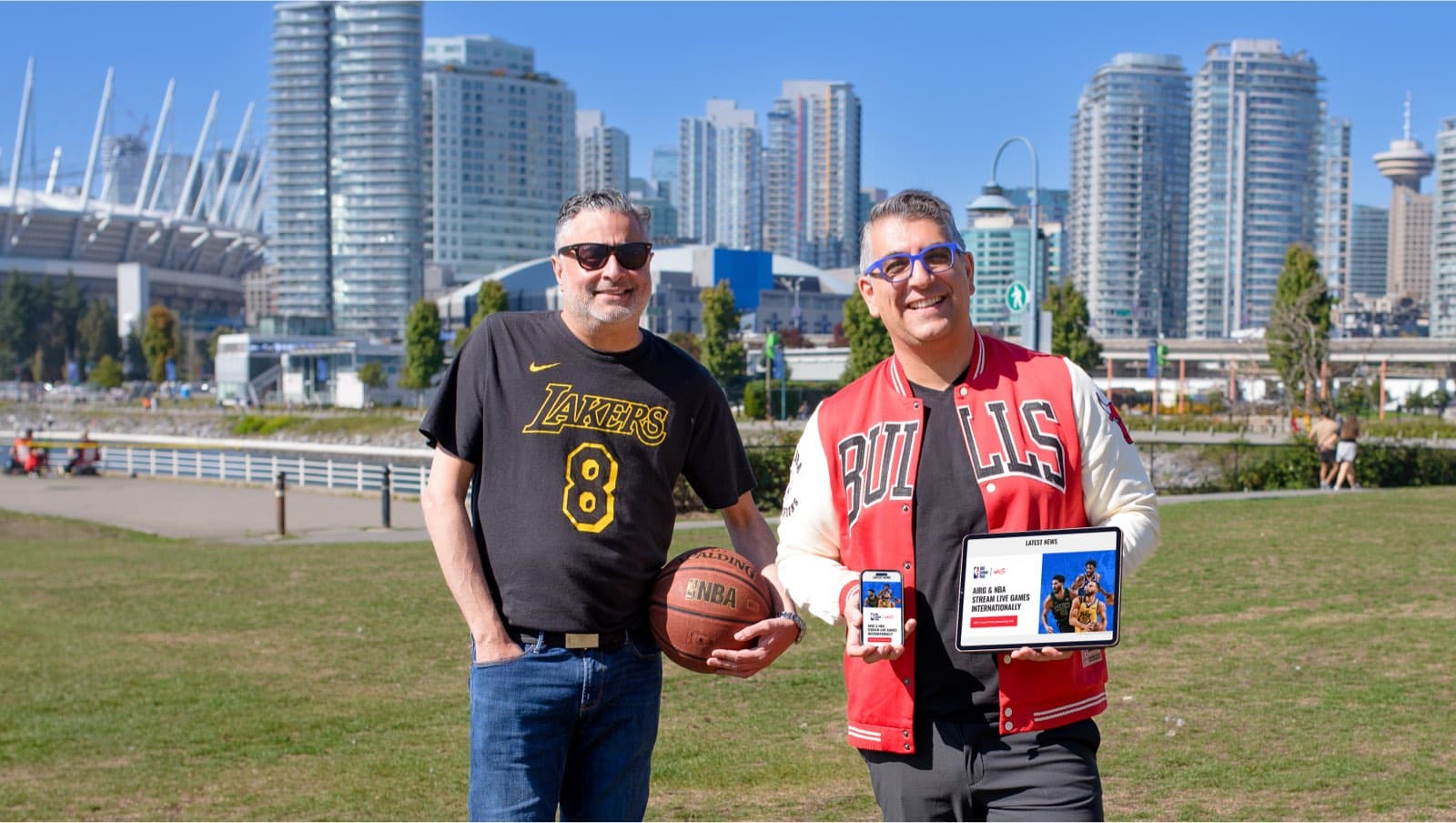 (Pictured L-R): airG executives, Raj Bhangu, executive vice president, and Fred Ghahramani, CEO and co-founder.
airG will deploy NBA League Pass as a Mobile Operator Billed Subscription Service across 50+ mobile operators (collectively reaching 1+ billion subscribers).
Collaboration enables NBA fans in 19 countries across the Middle East, Latin America and India to stream live games on NBA League Pass across multiple devices and pay through their mobile phones.
airG will facilitate Direct Carrier Billing (DCB), Customer Acquisition, and Service Marketing & Promotion in English, Arabic, Spanish, Punjabi, and Hindi.
VANCOUVER, October 5, 2023 – airG Inc., a leader in mobile content billing and distribution, today announced a multiyear collaboration with the National Basketball Association (NBA) to make live NBA games more easily accessible to fans across the Middle East, Latin America and India.
The multiyear collaboration will allow fans to subscribe to NBA League Pass – the league's premium live game subscription service – using their mobile phone account or pre-pay airtime credits across airG's 50+ mobile operators that collectively reach more than 1 billion subscribers in 19 countries throughout the Middle East and Latin America, as well as India.
"Having grown up watching and all the NBA stars of our generation, it is with great delight that we at airG can play a small part in bringing the magic of the NBA to a whole new generation of fans around the world," said airG CEO and co-founder Frederick Ghahramani.
NBA League Pass features every NBA game live and on-demand (including all regular-season NBA games, the NBA Playoffs, and the NBA Finals) available for streaming across mobile phones, tablets, desktops, and interactive TVs. This year, NBA League Pass will also feature the following pre-season and regular-season games played in international markets:
October 5, & 7: NBA Abu Dhabi Games (United Arab Emirates);
October 8: NBA Canada Series (Vancouver BC);
October 12: NBA Canada Series (Montreal Quebec);
November 9: NBA Mexico City Game (Mexico City);
January 11: NBA Paris Game (Paris France);
About airG Inc
airG is a pioneer in the mobile software industry having released its first mobile application in 2000. The company's products and services have reached hundreds of millions of customers and generated billions in revenues for the company's mobile operator partners. With a foundation of over 2 decades in mobile content billing and distribution, and direct carrier billing relationships that span 40+ countries and 150+ mobile operators, airG provides premium brands a unique one-stop-shop for mobile billing, distribution, and monetization.
About the NBA
The National Basketball Association (NBA) is a global sports and media organization with the mission to inspire and connect people everywhere through the power of basketball. Built around five professional sports leagues: the NBA, WNBA, NBA G League, NBA 2K League and Basketball Africa League, the NBA has established a major international presence with games and programming available in 214 countries and territories in more than 50 languages, and merchandise for sale in more than 200 countries and territories on all seven continents. NBA rosters at the start of the 2022-23 season featured 120 international players from 41 countries. NBA Digital's assets include NBA TV, NBA.com, the NBA App and NBA League Pass. The NBA has created one of the largest social media communities in the world, with 2.1 billion likes and followers globally across all league, team and player platforms. Through NBA Cares, the league addresses important social issues by working with internationally recognized youth-serving organizations that support education, youth and family development, and health-related causes.